Geberit AquaClean Sela shower toilet in elegant white matt
16 Mar. 2023
Fans of white matt bathroom equipment take note: Geberit has now added a shower toilet to its white matt range. Geberit AquaClean Sela will be available in this elegant and contemporary colour from 1 April 2023.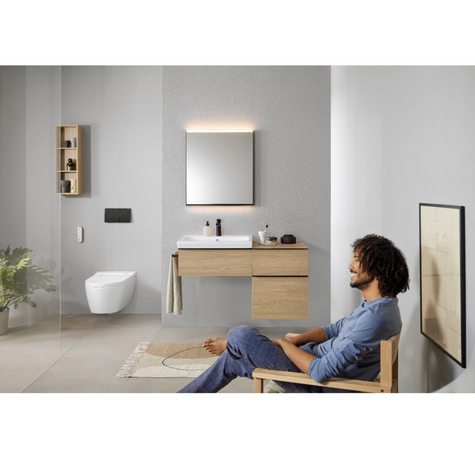 Over the last two years, the stylish white matt colour has really taken off in bathrooms all over the world. White matt ceramic surfaces bring a luxurious, high-quality feel to the bathroom, while still being simple and straightforward in design. Now, for the first time, this contemporary colour is also available for Geberit shower toilets.
The Geberit AquaClean Sela shower toilet is now available in a white matt model. This elegant new shower toilet option complements the existing white matt ceramic range from Geberit and can be perfectly integrated into corresponding bathroom designs. According to Andreas Janser, Product Manager International for AquaClean shower toilets, everything in the matt Geberit portfolio has been designed to work together in total harmony: "This goes for all washbasins, WCs and AquaClean Sela." The range of possible combination options is huge, with a whole host of white matt ceramics featuring in the Geberit ONE and iCon series. These include two hand rinse basins and one lay-on washbasin in the iCon Light series, as well as one rectangular and one bowl washbasin in the Geberit ONE series – not forgetting the WC ceramics in both series either.
Special ceramic glaze and adapted WC seat
The matt finish on the ceramic is created by a special glaze. But it's not just the glaze that's different, as the developers have also adapted the seat to match this on-trend colour. "As the WC seat and lid are made of a different material to the WC ceramics, they reflect the light differently," explains Andreas Janser. This is why various test runs were required before the ceramic matched the matt-varnished WC seat and lid. These comprehensive tests also ensured the surfaces were robust enough to withstand stains and scratches.
With this latest product innovation, Geberit AquaClean Sela is now available in three different models: white high-gloss with a cover in chrome or white – and of course, white matt.
More information and images are available at www.geberit-global.com
Further information is available from:
Geberit International Sales AGAG
Building 1B unit 702 – 705 Dubai Design District, Dubai, UAE
Louise Pitt, Marketing and Communications Manager, +971506516227
About Geberit
The Geberit Group, which operates worldwide, is the European market leader for sanitary products. Geberit has a strong local presence in most European countries and is therefore able to offer unique added value in both the sanitary technology and bathroom ceramics sectors. The production capacity comprises 26 production plants, 4 of which are overseas. The Group has its company headquarters in Rapperswil-Jona in Switzerland. With approximately 12,000 employees in around 50 countries, Geberit generated sales of CHF 3.4 billion in 2022. Geberit shares are listed on the SIX Swiss Exchange and have been included in the SMI (Swiss Market Index) since 2012.
Image material: https://media.geberit.com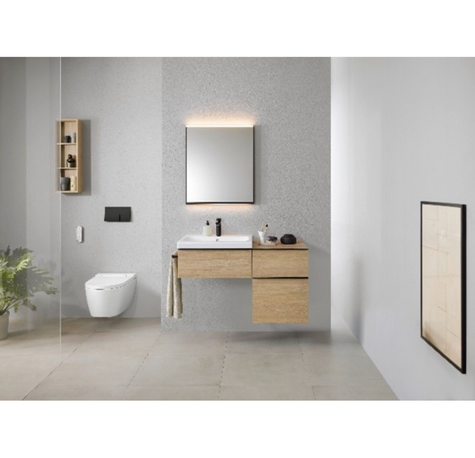 AquaClean Sela in white matt
Geberit AquaClean Sela is now also available in white matt for a designer shower toilet that blends discreetly into any elegant bathroom aesthetic.
Photo: Hanse Knödler Fotodesign, Radolfzell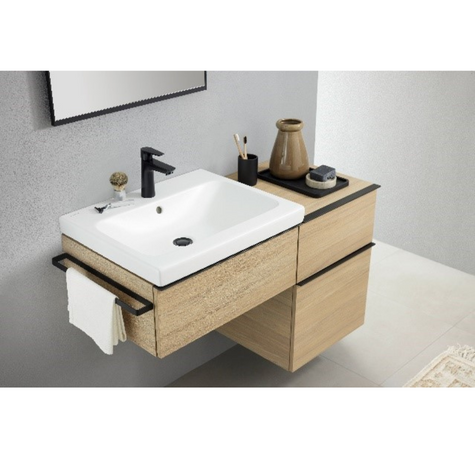 Combination options
The elegant washbasins in the iCon bathroom series can be perfectly combined with the new white matt AquaClean Sela.
Photo: Hanse Knödler Fotodesign, Radolfzell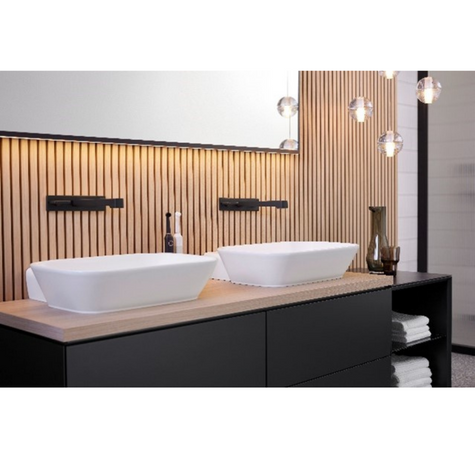 Combination options
The Geberit ONE bathroom series also includes complementary combination options in white matt, such as these lay-on washbasins.
Photo: Hanse Knödler Fotodesign, Radolfzell